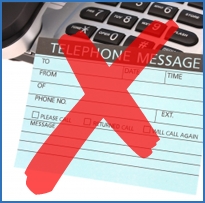 Affordable Compliance
Break free from fax, phone and paid postage systems - all for less than the cost of 3 first-class stamps per day! Using .mdEmail® is the first step to achieving a paperless environment in the office. .md value bundles include multiple secure email accounts, a personalized website, secure instant messaging and more, starting at only $150 per year.
Click here for complete pricing information.
Securing ePHI with .mdEmail® has never been easier or more affordable. Unlike other solutions that are significantly more expensive and require complex key management, .mdEmail is easily integrated into any existing back office environment without the hassle of workflow disruption, expensive new software, personnel training or costly installations. In fact, .mdEmail can be installed in just minutes, and becomes fully operational within hours - requiring absolutely NO downtime from your office staff. Communication with .mdEmail® is simple and easy to use, and works with any modern desktop email solution. This means if you are presently using Outlook, Blackberry, or Mozilla etc., there is no need to change and no retraining.
Join the only interoperable network designed exclusively for healthcare and take the first step to establishing a paperless healthcare practice.
Click here to see if your name is available!